Rapid and consistent, high-quality DNA or RNA purification from
a variety of sample types at low cost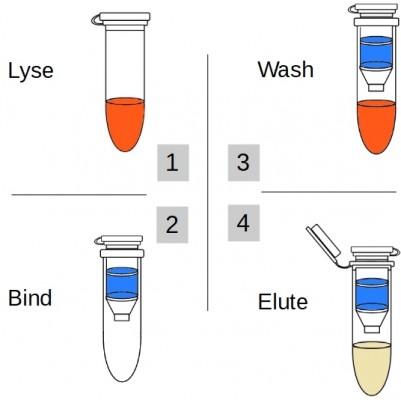 High quality DNA or RNA

Rapid: 20-25 minutes

At 30-55% lower price

Consistent high yields

Easy spin-column protocol

Wide variety of samples

No toxic chemicals like phenol or chloroform
Kits: DNA or RNA isolation, validated samples Download user manuals, quick reference tables and MSDS
Kit name
Sample types validated
Quick reference and User manual

Catalog # and MSDS

Satogen Virus and Cell-free RNA and DNA kit (spin column)
Viral and Total nucleic acid extractions from cell-free samples: plasma, serum, CSF, urine, BALF, cell-free body fluids, viral transport media (swabs), water
Quick reference

User Manual

VCC-50

MSDS

Universal DNA kit (spin column)
Bacteria, yeast, fungi, mushroom and plant (leaf, rice, potato)
Quick reference

User Manual

DUC-50

MSDS

Blood etc. DNA kit (spin column)
Human and animal blood (whole, dried, clotted, frozen), cells (cultured, WBCs, PMBCs) body fluids (lavages, aspirates, effusions, etc.), swabs, sputum, urine and stool
Quick reference

User Manual

DBC-50

MSDS

Tissue and FFPE DNA kit (spin column)
Human and animal tissue: fresh, frozen, fixed (FFPE, ethanol, acetone)
Quick reference

User Manual

DTC-50

MSDS
The spin-column method you already use, at lower prices
Swagene DNA and RNA isolation and extraction kits are compatible with a wide variety of sample types, and use the same spin-column protocols that you are used to. The hands-on time taken to isolate DNA or RNA are considerably reduced and the protocols made simpler.
High quality DNA and RNA are obtained consistently from bacteria, yeast, plant, food, animal and human sources including cells, fluids and tissues. Sample volume is also smaller, saving not only on precious samples, but also on time and effort required.
No use of toxic chemicals like phenol or chloroform in the kit enables complete workflow on the lab bench without resorting to fume hoods. High yield and quality of DNA or RNA are obtained reliably and at very low cost per isolation.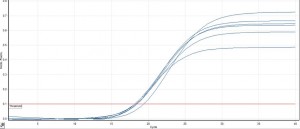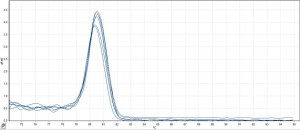 DNA was isolated from various human clinical samples using Swagene Blood DNA kit and tested by real-time PCR for the Factor V (F5) gene using SyBr Green. The amplification curve (left) and melt curve (right) are shown.
Downstream applications
High yield and quality of DNA or RNA enable use in several specialized downstream applications
PCR: conventional PCR, real-time PCR, digital PCR

Gel electrophoresis 

and 

Southern blotting

Restriction enzyme digestion

Microarrays

Sequencing: Sanger, NGS (next generation sequencing)
Technical specifications
| Parameter | Specification |
| --- | --- |
| Technology | Silica Technology |
| Format | Mini spin columns |
| Elution volume | 20-200 µl |
| Separation time | 20-25 minutes |
| Processing | Centrifugation, vacuum manifold or compatible robotic automation systems |
Buy Swagene kits: Distributors
We have distributors all over India and in several parts of the world. We can help you find a distributor, may be one that already serves your laboratory. If you're not able to find a nearby distributor, please contact us giving details on your location and current molecular biology distributors.
Partner with us: Distributors and OEM
Distributors
Benefits
Looking for new distributors in

Top performance molecular kits
Easy to sell with low cost of kits
Marketing and technical support

South Asia, Southeast Asia
East Asia
Gulf, Arab and Middle-East
Africa
Please contact us giving details on your your top areas served, number of DNA/RNA kits distributed per month, premier clients, current molecular biology principals and product categories. We will write or call back very soon.
OEM and Manufacturing partners
Interested manufacturers looking for OEM solutions using our diverse and high-performance range of molecular kits are welcome. Please contact us giving details on which kits you are interested in, number of isolations you want per order and kit type, and the frequency of ordering.