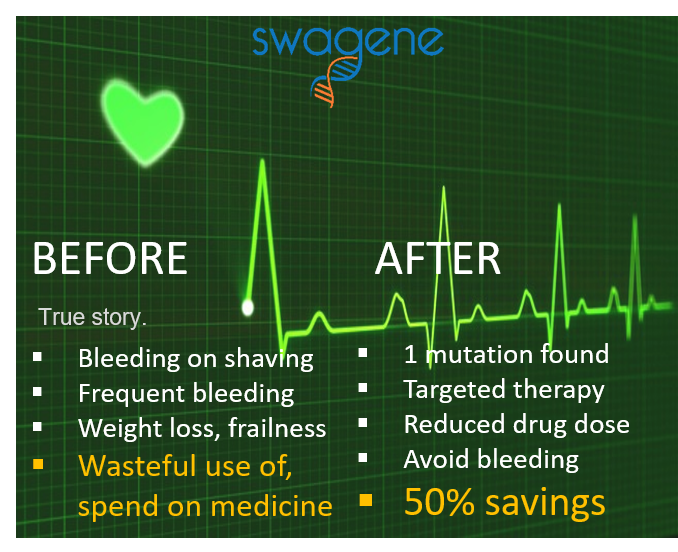 Vinay (true story, name changed) was an active politician, all of 82 years old and only 53 kg when he visited us. He had undergone heart bypass surgery 10 years ago, and like everyone else with heart disease or cardiac stent placement, was put on blood thinners. He was given clopidogrel (Clopilet) two tablets, at 150 mg per day, apart from aspirin.
Vinay noticed that whenever he shaved he would bleed profusely at tiny nicks and cuts, and it took a long time for the bleeding to arrest. Unbeknownst to him, his body was also very likely suffering from such internal bleeding every day! This likely led to loss of his body weight over the years.
Vinay was at his cardiologist's on a routine consultation, and got up to leave when his doctor noticed his bloodstained dhoti. Upon asking, Vinay said he had just brushed his leg against a table and didn't notice the blood until now. His doctor immediately referred him to us.
We found that Vinay had a mutation that made his body metabolize his blood thinner (clopidogrel) rapidly, leading to higher concentrations of the drug in his blood. Naturally, this was leading to all the frequent and spontaneous bleeding episodes, and possibly weight loss. He was taking twice the label-recommended dosage of drug, so we suggested reducing it by half to his doctor.
Vinay has been bleeding much less since then, and is also getting to save 50% on his monthly bill for prescription drugs like blood thinners! The savings on avoiding emergencies and hospitalization will run into hundreds of thousands of rupees.
If you're on blood thinners, take the test to find out ways you can reduce your healthcare bills every month for the rest of your life!