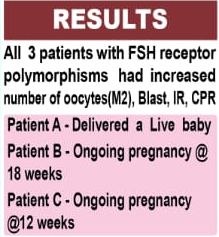 Doctors at Nova IVI Fertility centre have shared with us their results and poster presentation demonstrating 100% IVF success in their mini case series on women with FSH and/or estrogen receptor (FSHR and ESR1) polymorphisms tested at Swagene for the genetic polymorphisms. All three women who were "unexpected poor responders" have achieved successful live birth or pregnancy at the time of this poster presentation.
Dr Aruna Ashok, Dr Madhupriya, Dr Krithikadevi and Dr Priyasakthi C of Nova IVI Fertility centre happily shared their poster with us, discussed their findings in the context of the test results we gave them, and have consented to the dissemination of their poster.
All three women in this series were "unexpected poor responders" to gonadotropin stimulation with either cycle cancellations or poor oocytes. They were tested at Swagene lab, and were found to carry the FSH receptor gene variations. Upon targeted therapy with this new knowledge, one woman delivered a live baby, while the other two women were pregnant at the time of this poster presentation.
Swagene is a NABH-certified, DSIR-recognized molecular genetics lab with tests for FSH receptor (FSHR), FSH beta-subunit (FSHB), LH beta-subunit (LHB) and estrogen receptor type-1 (ESR1) genetic variations in both men and women for actionable fertility treatment.
Please NOTE: this study was NOT funded or sponsored by Swagene in any way.